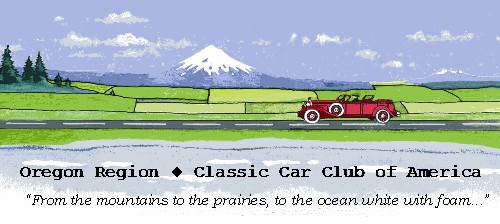 ---
"Feature Car"
Larry & Pat Cox's 31 Packard
The Story of Oliver
By Larry Cox
We first saw our 1931 Packard (Oliver) in late 2010 when two CCCA friends who were each considering purchasing the car told us it was available. They were undecided but we were not. Oliver is a model 833 (7) passenger sedan of which there were 6,096 of that body style produced in 1930 and 1931. When new, Oliver was purchased from Earl C. Anthony Company in Hollywood, California for the then substantial amount of $2,785 (a Model A Ford at that time was selling for under $500). Oliver weighs in at just under 5,000 pounds and has a 320 cubic inch Standard Eight engine that produces 100 horsepower and moves us down the road at a comfortable 50 to 55 miles per hour.
Not long after acquiring Oliver we took a two week xxx mile road trip through British Columbia. Along the way we had a soft plug blow out and had to be towed ninety miles to the nearest town with a parts store that had a thermos bottle type stopper to plug the hole. Because the soft plugs had been installed improperly we later lost two more but found that a wine bottle cork worked very well as a temporary repair.
Since that time we have driven Oliver more than 4,000 miles on various tours and weekend get-aways. Other than a persistent vapor lock problem that took a while to solve he has been reliable and a joy to drive. Pat says the thing that she likes most about our Packard is that it attracts many people and makes them happy.
---
OREGON CCCA MESSAGE
By Rodger Eddy
Haven't we all had a memorable experience in the back seat of a vintage sedan?
Put aside those romantic memories for a moment, because I'm talking about the queasy feeling in the stomach as Dad and Mom up front were enjoying the lurching ride while the offspring in back suffered. At that young age we took for granted the panorama of berry fields, forests, cascading rivers, and red rock cliffs, not realizing that Oregon's abundant beauty is unique.We are blessed that much of that childhood scenery so ingrained in us still exists today, even in the bustling Willamette Valley, the Western
World's Garden of Eden that drew our ancestors westward. And we are also blessed that many of the dependable old cars from childhood eras are still here to be enjoyed. A dramatic view on one of our tours
provides not just a beneficial moment, but can evoke memories of earlier times.
Please take the time and effort to get the old car rolling, and join your close friends in car clubs who share your respect for the past and for our heritage. Our tours this summer are varied, but each promises the fabric for today's enjoyment woven with perpetual threads of life.
---
Take a trip back through time.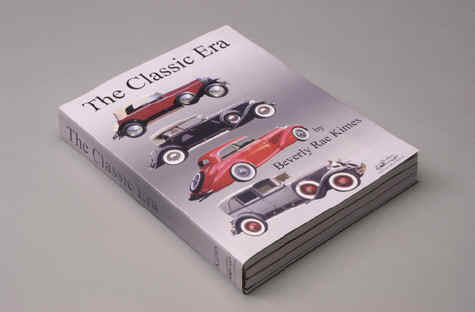 This wonderful book is available through the Classic Car Club of America
---
Classic Car Club of America is a non-profit organization chartered in the State of New York for the development, publication and interchange of technical, historical and other information for and among members and other persons who own or are interested in fine or unusual foreign or domestic motor cars built between and including the years 1925 through 1948, but including cars built before 1925 that are virtually identical to 1925 Full ClassicsTM and distinguished for the respective fine design, high engineering standards and superior workmanship, and to maintain references upon and encourage the maintenance restoration and preservation for all such Classic Cars.
The purposes for which a Region is chartered by the National Club are: The furthering of the ideas and ideals reflected by the By-Laws of the National Club in a specific Regional area and to provide Regional activities for the National members in this area.